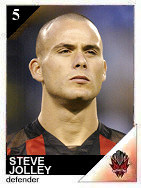 Steve Jolley, the former College of William & Mary star who had a 10-year professional career in Major League Soccer, has been selected for induction into the Virginia-D.C. Soccer Hall of Fame.Jolly will be inducted with three others, including Four people, including Washington Post soccer journalist Steve Goff, Jim Ferguson and Anne Thompson.Goff was selected for induction in the Meritorious Service Category along with Ferguson and Thompson, while Virginia Beach's Jolley was inducted in the Player Category.Jolley, a defender, spent 10 seasons in MLS, drafted by the LA Galaxy in 1997 and played in the 1999 MLS Cup before being traded to the then-named MetroStars in 2000 until 2004, when he was traded to Dallas and played there in the 2004 and 2005 seasons before being traded back to the MetroStars in 2006.Jolley played high school soccer at Kempsville in Virginia Beach, leading them to back-to-back state titles before beginning his collegiate career in Williamsburg.
Ferguson and Thompson have served Virginia Youth Soccer in various capacities over the last two decades.
The 2013 inductees will be honored at the Virginia Youth Soccer Association Convention Feb. 1 in Richmond, VA.