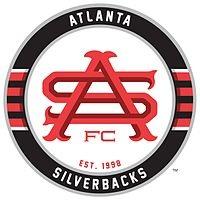 The Carolina RailHawks needed either a tie or a win in San Antonio to capture the NASL Spring Championship.  They got neither. Instead they were shut out 2-0.The Atlanta Silverbacks needed to win on the road against Minnesota United FC and they needed to win big to overcome the RailHawks goal differential advantage.  They did just that.
It all happened on July 4th weekend, and the fireworks could not have been more spectacular.  The Silverbacks took a 3-0 victory and the spring half of the season championship.  They will host the NASL Soccer Bowl championship in November against the first-place team for the fall season.
Brian Stisser got Atlanta on the scoreboard in the first half, while Bobby Reiss and Ruben Luna got second-half goals to finish the 3-0 victory.
The win caps off a story that featured the Silverbacks finishing next to last in 2012 to now taking the top spot in the standings and their first NASL crown.
"I am so proud of these guys and how they played," said Silverbacks coach Brian Haynes "We did what we had to do so I am so proud of the boys who gave a great effort against a good team and we took our chances well."
The RailHwks' 2-0 loss to the Scorpions was a heartbreaker.  Dutch striker Hans Denissen scored both goals for San Antonio.
Needing a goal to tie, Carolina pressed forward and Denissen capitalized for the game-winner as time was running out.
"We had to press the game and I think we did a great job and the energy from the guys certainly came from the heart," said RailHawks' coach Tim Hankinson whose Scorpions have now won five straight games after not winning during the opening month of the season.
"We wanted to finish this spring season on a high note and I think the fans saw a great one.  We had some performances that were really gutsy and then played to the strength of our game and that led to great results."