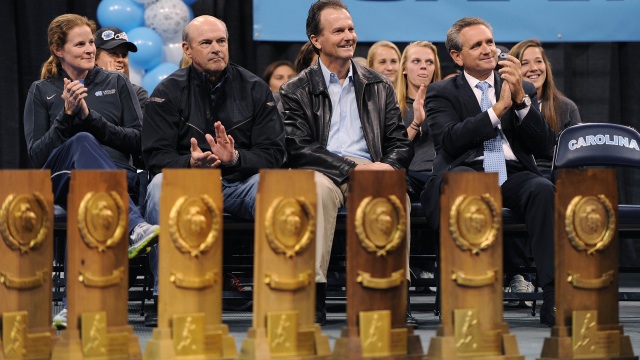 McLean, Va. – The University of North Carolina has won one of the most prestigious trophies in college sports. The Tar Heels' women's athletics program finished first in the annual Capital One Cup, which is awarded to the best men's and women's Division I athletics programs in the country. Claiming its first Capital One Cup trophy and $200,000 toward student-athlete scholarships, North Carolina will be formally honored for their accomplishment during this year's ESPY Awards ceremony in Los Angeles on July 17.
Boosted by the NCAA women's soccer national championship and a runner-up finish in the field hockey championship during the fall athletics season, the Tar Heels catapulted to the top of the Capital One Cup standings where it shared the No. 1 spot with Penn State in January. After falling to fourth in the standings at the conclusion of the winter season, North Carolina bounced back in the spring and outdistanced themselves from two-time defending winner Stanford University to claim the Capital One Cup on the strength of a lacrosse national title and a fourth-place finish in the final tennis coaches' poll.
Stanford earned points from the NCAA women's tennis national championship and nine other top-10 finishes across the 20 women's sports represented in the Capital One Cup. In the end, the Cardinal was just 10.5 points shy of the Tar Heels.  Oregon, which finished in the top three for the first time, made a late-season run with a third-place finish at the NCAA outdoor track and field championships and the No. 9 spot in the final softball coaches' poll.  Rounding out the top 10 were Texas (4), Penn State (5), Florida (6), Oklahoma (7), Kansas (T-8), Southern California (T-8) and Connecticut (10).
"This is a wonderful accomplishment by our women's sports programs and the entire Carolina community congratulates these outstanding women for their achievement," said University of North Carolina Director of Athletics Bubba Cunningham. "To earn first place in the Capital One Cup is a credit to the hard work, perseverance and dedication of these students, our coaches and support staff.  Additionally, we would like to thank Capital One for its support of college athletics."
Below are the official Capital One Cup women's final standings for the 2012 – 2013 season, with the top-10 point earners in women's Division I athletics listed.
Women's Capital One Cup Final Standings

Rank

School

Points

1

North Carolina

140

2

Stanford

129.5

3

Oregon

112

4

Texas

92

5

Penn State

89

6

Florida

85

7

Oklahoma

74

8

Kansas

72

8

Southern California

72

10

Connecticut

71
"Based on the fierce competition we saw in the race for the Capital One Cup the past two years, I was eager to see how this year's race would play out at the end of the spring season," said Brandi Chastain, Capital One Cup Advisory Board member, World Cup Champion and former Santa Clara University soccer student-athlete. "North Carolina definitely brought its championship mentality this year, winning national titles in soccer and lacrosse, and its entire athletics program should be very proud of their on-field accomplishments.  An award like the Capital One Cup speaks volumes because it celebrates student-athletes on and off the field."
"Congratulations to the University of North Carolina women's athletics program on winning this year's Capital One Cup," said Marc Mentry, Senior Vice President, Capital One Brand Marketing. "The Tar Heels showcased great performances across multiple sports throughout the entire season and it was exciting to watch the race for the Cup unfold as they held off a very powerful Stanford program. We're looking forward to honoring our new winner at the ESPY Awards next month."
Highlights from the Capital One Cup during the 2012-2013 athletics season include:
North Carolina toppled three number one seeds on its way to claiming the school's 21st national championship in women's soccer
Princeton won its first-ever NCAA championship in both fencing and field hockey
Connecticut took home its eighth basketball national championship and ties Tennessee for the most by a women's program
Minnesota's ice hockey team had an unblemished record (41-0-0) and successfully defended its 2012 national title
North Carolina captured its first-ever lacrosse national championship after eight unsuccessful trips to the semifinals in 18 years
Southern California scored its third water polo national championship since 2004
Combined, 90 schools earned points in the Capital One Cup women's standings
Schools earn points based on their teams' top-10 finishes in NCAA Division I championships and in final official coaches' polls across 20 women's and 19 men's sports as they compete to win the Capital One Cup trophy and a combined $400,000 in scholarships for student-athletes.
The Capital One Cup men's winning athletics program will be announced after the conclusion of the NCAA College World Series® in late June. In the previous two years, the University of Florida men's athletics program claimed the Capital One Cup.
In addition to Chastain, other Capital One Cup Advisory Board members include Rece Davis, Jennie Finch, Doug Flutie, Clark Kellogg, Barry Larkin and Lisa Leslie.