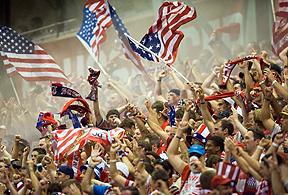 September 10, 2013 – The United States rode the emotions of most of the crowd of 24,584 at Columbus Crew Stadium in Ohio to a 2-0 victory over Mexico, a result, combined with Honduras' 2-2 draw with Panama, punched the Americans ticket to the 2014 FIFA World Cup in Brazil.
After a scoreless first half, Eddie Johnson and Landon Donovan scored to give the U.S. its fourth consecutive 2-0 victory over Mexico in Columbus, Ohio.  The U.S. team has clinched a spot in the World Cup final tournament for the seventh straight time, and they did it with two qualifiers to go in the final hexagonal regional.  They still have a road game on Oct. 11 against Jamaica in Kansas City and a road match on ?Oct. 15 against Panama.
The U.S. team rebounded from a 3-1 loss in Costa Rica three nights ago, where they had hoped to clinch qualifications.  Coach Jurgen Klinsmann was forced to make several changes in his starting lineup, replacing Jozy Altidore, Geoff Cameron and Matt Besler, all of whom received their second yellow cards in the Hexagonal and were suspended from the Mexico game.
"The players know when they play in Columbus that they have 100 percent support behind them," said Klinsmann of the atmosphere in Columbus Crew stadium where U.S. fans stood and cheered throughout the game.  It gives them energy, and it gives them confidence."
Also missing was Michael Bradley's the team's linchpin at midfield, who sprained an ankle in warmups before the Costa Rica game.  He is expected to be out of action for four to six weeks.  Kyle Beckerman, who was solid, filled in for Bradley in Columbus.
The loss dropped Mexico to fifth place in the hexagonal standings, and with two games left they must win both to be assured of having a shot at qualifying for Brazil.  A fourth-place finish would require that CONCACAF team to win a home-and-home series against New Zealand for the final spot in the 2014 World Cup.
For Donovan, his goal was his U.S. Soccer all-time record 57 after missing the first six Hexagonal games as he returned from an extended break after the 2012 MLS season.  Klinsmann said Donovan would have to earn his way back into the team, and he did that with a stellar performance leading the U.S. to a Gold Cup championship with five goals and seven assists.
Clint Dempsey almost ruined the four-straight 2-0 win storyline as he drew a penalty kicks with mere seconds left in added time.  However, his penalty kick sailed over the crossbar leading the final score at "Dos a Cero", a heartbreaker for the Mexico team and their supporters.