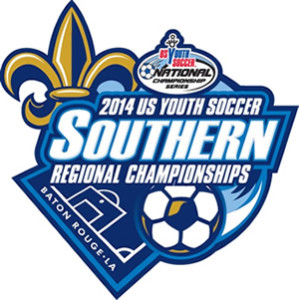 The 2014 US Youth Soccer Region III (South) Championships came to an exciting conclusion In Baton Rouge, La., as 10 teams claimed titles. Not only will the 10 sides leave as Regional Champions, but they join the four previous title winners in securing a most desired berth to the 2014 US Youth Soccer National Championships, presented by the National Guard, which will be played July 22-27 in Germantown, Md.
Georgia led the way with six Region III Champions, while North Texas was close behind with five title winners. Florida had two teams claim championships, and Tennessee had one.
Tennessee's lone champion, Under-16 Tennessee SC 16, stood atop the Region III podium for the third straight year, while Florida's Sunrise Elite 97/98 (FL) also won a third consecutive Region III title.
"It's extremely difficult. Not only are all the teams very good that you come up against, but you have a preceding reputation that comes with you when you step on the field," said Tennessee SC 16 coach Ronnie Woodard on defending the title. "It's really important that these girls never become complacent when they play. When you two-peat and you're going for a three-peat, it makes it even more difficult. We all know getting to the top and winning championships is difficult, but staying there is even harder. Once again, all the credit goes to these girls."