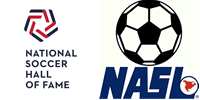 Everyone loves a celebration. There will be a big one this fall in Frisco, TX. and Texans know how to throw a party. After all, everything's bigger in Texas.
The dates are Oct 19-21, 2018, and actually it will be two separate celebrations rolled into one.
The new National Soccer Hall of Fame facility will open with the Induction Ceremony of the HOF Class of 2018 on Oct 20. The new facility is on the grounds of Toyota Stadium, home of Major League Soccer's FC Dallas. The 2018 inductees have yet to be announced.
During the same weekend the 50th anniversary of the North American Soccer League will be celebrated. While the two are not officially connected, the weekend honors the historical growth of soccer in the United States, and specifically soccer in the Dallas area.
The North American Soccer League enjoyed remarkable times from 1968-84, created lifetime memories for everyone involved, and can certainly claim a founding role in today's soccer-mad American society.
The Dallas Tornado was part of the early years of the NASL, winning the league championship in 1971.  Many former Tornado players remained in the Dallas area after their playing days were over, and played important roles as coaches and administrators in the development of the game at the youth level.
Of the twelve teams that comprised the league in 1967, the Tornado franchise played the longest–15 seasons. They defeated the Atlanta Chiefs 2-1 for the 1971 NASL championship.
The NASL 50th Luncheon will be held at noon on Saturday, Oct 20 at Toyota Stadium. The National Soccer Hall of Fame Induction will be held that evening in the stadium, followed by a concert featuring Imagine Dragons & The Revivalists and fireworks.
Sunday afternoon FC Dallas will play Sporting Kansas City at 4:00 p.m., followed by the NASL 50th LEGENDS' GAME, featuring veteran players from the original NASL.
An after-game party will be held at the London Pub, across from Toyota Stadium.
The National Soccer Hall of Fame was first located in Oneonta, NY and known as the National Soccer Museum from 1979-2010. It became known as the National Soccer Hall of Fame in 1983. The facility closed in February of 2010. In 2013, FC Dallas owners, Clark and Dan Hunt launched a campaign to bring the Hall of Fame to Frisco. Their father, Lamar Hunt, was inducted to the National Soccer Hall of Fame in 1982.